WARNING THIS STORY CONTAINS STRONG LANGUAGE
Edit
Oh god. We've done it. We screwed up big time. We hired a janitor. He spoke with an odd voice, occasionally saying stuff like "amassing suprise" and "truth is babby". When we let him in Item 006's containment chamber, he put one of the 006-2 pods in his coat pocket. Instead of destroying it, he took it home.
And that's how he conquered the world.
---
An amassing suprise! Item gye fail 2 protecte 06! smuthing wonderful hapen! I make the machien work! I wiiiiiiin!
---
I don't know how many died. That fucker made clones of 006. He made CLONES. A million parallel dimensions, each producing monsters that could kill thousands. They destroyed every government building, police center, and school in the world. And the death toll was in the hundred millions. Then they put up those signs. With that damn logo.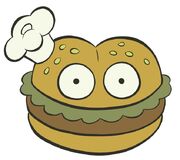 We were idiots. I am the last member of the Item-Log facility. I have a gun. It's only a matter of time.

-written by Mrtdark1